Hello Boys and Girls and welcome to another interview episode of the Motorcycle Men.
This week, I had a wonderful chat with Spencer Conway. Spencer rode his Yamaha Tenere around the perimeter of Africa and South America. We discuss the bike, his travels, the challenges, the best and the worst parts, the roads, the food, the people and much, much more. Spencer was an absolute delight to have on and one of the best interviews I've done.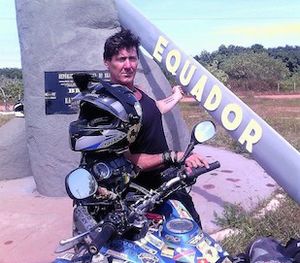 Head over to www.Spencer-Conway.com to learn more about his travels to both of these massive continents. 
Don't forget to head over to Cycle Gear and tell them that the Motorcycle Men sent you. With 136 stores around the country, you're bound to find a store near you to get what you need and want for your motorcycle.
And get yourself decked out in the best Motorwear you can find out there and get it from Tobacco Motorwear. Their jeans are great to wear all the time and look great as well. With the kevlar lined riding jeans and the California Riding Shirt, you'll be comfortable and look great where ever you go, on and off the bike.
For Tim "Buktu" and Chris "Joker", I am Ted "Wrongway" and this has been Episode 134 with Spencer Conway.
Remember kids, we say stupid crap so you don't have to.