Hello boys and girls!!!
Once again the Motorcycle Men deliver and deliver the goods we have.  And how do we do it? With help from our subscribers and thanks to them, they are making things happen.  But we could use more help to get us over some obstacles and massive hurdles with our gear.  So for as little as $1 stinking dollar, you can help us help you.  We will add more content and we are working on that, but it's delivering them to you is what we want to do. Your help, helps us do that.  Go to the home page of the website at
www.motorcyclemen.us
and click on that "
Subscribe
" button and you are on your way to giving yourself a better show. Remember, all of our subscribers will receive a Motorcycle Men Podcast sticker AND access to our Facebook Group.
This episode brings your the riding superhero, the woman, the myth, the legend!!  Around the country on her.......
Vespa
. And you can even do it on your big ol Harley.  Now don't you feel all sad?  Stephanie Yue joined me on this episode and told me all about her travels and the things she did and say.  Check out her daily blog at
250cc Superhero
.... Stephanie is also an amazing artist and illustrator, so when you visit her site be sure and check out her drawings.  Very talented.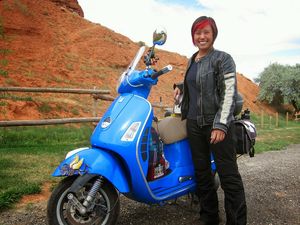 Don't forget to check out our Facebook page.  And remember, if your subscribe, you get access to our Facebook group and you'll get the inside scoop on upcoming MM happenings.
Ride safe kids!!
Ted
Your host
Motorcycle Men Podcast