Hello Goys and Birls!!!
Welcome to another wonderful interview episode!!!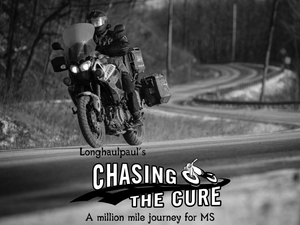 Multiple Sclerosis is a debilitating disease that strikes millions of people around the world, for many the realization that there is something you can do about it often comes too late, for others it is a lifelong battle that can beat down the strongest to their knees. But there is a way to live with it and combat it and live a normal life, to a point. My guest tonight has used the motorcycle to be his therapy on a long road to a more comfortable life with MS.  Paul Pelland AKA LongHaulPaul joins me in the V-Twin Cafe to tell us his story.  Visit Paul's website at LONGHAULPAUL for more information on how you can help him and the millions of others who struggle with this each day.
The Motorcycle Men Podcast is brought to you by Surf and Summit Motorcycle, Maine and New Hampshire's newest motorcycle rental and tour company.  Surf and Summit offers Harley Davidson big twins and Suzuki V-Stroms for rent at reasonable prices. Surf and Summit is happy to deliver your rental bike wherever you are staying, or you can peruse the bikes in person at Street Cycles of Falmouth, Maine. Surf and Summit also offers rental helmets, jackets, gloves, and GPS, so you'll have everything you need to enjoy great New England riding.  From the beautifully rugged coast of Maine to the amazing White Mountains of New Hampshire, Surf and Summit can help you have a fantastic motorcycling vacation. For more information, please visit SurfAndSummitMotorcycle.com. 
Please visit Cycle Gear for all of your motorcycle and motorcycle clothing needs, if you go to the Edison New Jersey store, be sure and tell them the Motorcycle Men sent you. 
AND Tobacco Motorwear, for the best in stylish and comfortable riding jeans go to Tobacco Motorwear and get yourself a pair of Kevlar Lined Riding Jeans and while you're at it, get the California riding shirt. Great looking clothing and they offer the protection you need while on your bike. When you order, be sure to tell them the Motorcycle Men recommended Tobacco Motorwear and use the coupon Code MOTORCYCLE MEN when ordering. 
For Tim "Buktu", Chris "Joker" and Justin "Shoes", this is your host Ted "Wrongway", thanks for listening and remember kids.... 
.....We say stupid crap so you don't have to.