Chapter 5
In this segment of Chapters we have Rick Antonson, Author of "Route 66 Still Kicks: Driving America's Main Street". 
This travelogue follows Rick and his travel companion Peter along 2,400 miles through eight states from Chicago to Los Angeles as they discover the old Route 66. With surprising and obscure stories about Route 66 personalities like Woody Guthrie, John Steinbeck, Al Capone, Salvador Dali, Dorothea Lange, Cyrus Avery (the Father of Route 66), the Harvey Girls, Mickey Mantle, and Bobby Troup (songwriter of "(Get Your Kicks on) Route 66"), Antonson's fresh perspective reads like an easy drive down a forgotten road: winding, stopping now and then to mingle with the locals and reminisce about times gone by, and then getting stuck in the mud, sucked into its charms. Rick mixes hilarious anecdotes of happenstance travel with the route's difficult history, its rise and fall in popularity, and above all, its place in legend. The author has committed part of his book's proceeds to the preservation work of the National Route 66 Federation.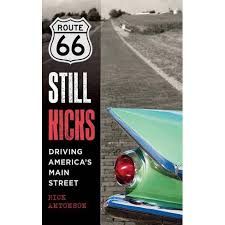 Special Thanks to our Sponsors:  

Tobacco Motorwear  /  Shinko Tires /  Scorpion Helmets  /  Wild-Ass Seats / UClear Digital Communications
The Motorcycle Men Support David's Dream and Believe Cancer Foundation
GET YOUR MOTORCYCLE MEN SHIRTS HERE!!! /  Get your Motorcycle Men Neck Gator and Mug here!!
Don't forget to get over and check out Ride With Ted over on the Motorcycle Men Channel on YouTube.     
Thanks for listening, we greatly appreciate you support. Ride Safe and remember....  We say stupid crap so you don't have to.