Hello Boys and Girls and welcome to another studio episode with the whole crew plus one this week....
Special thanks to our new Patreon subscriber to the show... Chad has joined the 2nd Gear group and he gets some motorcycle Men stickers and a copy of "Navigating Mountain Curves on a Motorcycle" narrated by your host.
Remember kids, 50% of all direct donations to the podcast and Patreon contributions go to to VetRest to help our vets with PTS. You are not just helping us, but you are helping our men and women who have served our nation.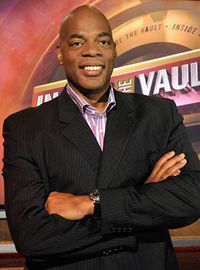 So this week, once again, he returns to the podcast! We are joined by Comic and motorcycle guy Alonzo Bodden. Alonzo has appeared on Jay Leno's Garage, Showtime, known for winning the grand prize in the third season of the reality-television series Last Comic Standing. He hosted the Speed TV program 101 Cars You Must Drive. He is also a host for America's Worst Driver. He also guest starred on Angel. He has performed on numerous television shows including The Tonight Show with Jay Leno, Late Night with Conan O'Brien, Make Me Laugh, Late Friday, The Late Late Show with Craig Kilborn, Comedy Central Presents and It's Showtime at the Apollo. He is also a voice actor who has worked on Power Rangers: Lightspeed Rescue, Masked Rider, and O'Grady. He is a co-host of Inside the Vault on WGN America. In 2011, he was a panelist on a BBC America year end special of Wait Wait... Don't Tell Me!, as well as a recurring panelist currently on the weekly NPR show and podcast.  During 2014, he was a comedic panelist on Game Show Network's original series Mind of a Man. To us he is known as a great guy and motorcycle fanatic.
We talked about bikes, riding and a couple of articles about the best bikes for tall and short riders.  Always a pleasure to have Alonzo on the show.  Check him out and if you get a chance to get to Americade to see him there you should. Check his schedule to see where he is performing and make it a point to get there to see him perform. Well worth your time.
Don't forget to check out our friends over at Loud Pipes Podcast, Thottled Podcast, Motorcycles and Misfits, Cleveland Moto, Moterrific, Café Racer Podcast and of course The Wheelnerds. And for you video nerds, check out Delboy's Garage on Youtube, you might learn something. All of these podcasts and many more out there do great things to promote and encourage our sport and passion.  
Also look at our sponsors. Love-jugs… cool off your big twin with love jugs.  That's Love-Jugs.com… and… of course Ciro3D…. Providing you with top quality accessories, comfort and performance parts for your big twin…. Ciro3D.com and also our new friends at Uclear Digital Last but not least, Get your leather on with Shore Fire Designs, custom lids for your bagger. Simm's Designs, your bike ain't cool until it's Simm's Design cool. And of course, get ahold of Dave Ackerman over at Tobacco Motorwear and get yourself some Kevlar Lined jeans.  
From Tim buktu, Chris the Joker and me, Ted, your host, thanks for listening to the motorcycle Men podcast.  This was episode 94 with our guest Alonzo Bodden. This has been the motorcycle men podcast where we stay stupid stuff so you don't have to. 
Ride safe boys and girls.