Hello boys and girls, 
In this episode I had the opportunity to speak with a woman who is empowering.... everyone. If you have something in your garage, work on it. That's her motto... sort of. But listen to this episode and check out what they do at Garage-Girls, you just might be impressed like I am.
Listen HERE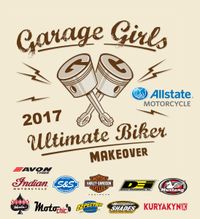 Here are some links to her other achievements;
GMC Van Tour
Sara and Guns  
Zen Folio 
1000 Biker Tatoos
How to repair and maintain America V-Twin Motorcycles
Sara on Instagram
Garage Girls on Instagram
Sara Photography
Garage Girls on Facebook
So do yourself a favor and check out all the things that Sara is doing.  Very impressive stuff and I think you'll find it worth your while.
Don't forget, Christmas show records the 21st and airs the 24th.  Feel free to call us at 908-514-4070 any time to leave us a voicemail. And, be sure and send us an email and let us know how we're doing at motomenpc@gmail.com or hit the contact page on the website.
For Tim "Buktu" and Chris "Joker", this is Ted "Wrongway" your host, thanks for listening and remember, we say stupid crap so you don't have to.